Our biases taken from the vines to the wines

The wine results from the cultivation of the vine on the one hand: Organic farming makes it possible to obtain a healthy plant and healthy fruits, thus fit for the consumption and it is the pledge of the preservation of the environment and of the ecosystem. and vinification on the other hand: Our winemaking method is "nature" banishing interventionist oenology. what is needed is: very ripe grapes and carefully selected, and a little sulfur (see the wine sheets)
Vin nature
Only the combination of organic cultivation and nature winemaking makes it possible to produce authentic wines
Biological care
We have made the choice to cultivate our vineyard according to methods of agrobiology controlled and certified by Bureau Veritas.


Ouillage
In the cellar we fill the barrels well and we often taste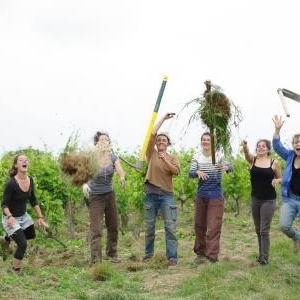 The vegetation that grows in the vine is not fatality
Our efforts consist of working the soils: plow, elbow oil and slice, decavaillonneuse, claws...we have plenty of tools! Herbs buried by tillage will feed soil microorganisms.
Bouillie Bordelaise
We use Bouillie Bordelaise at 4 kg/H against mildew.
Anjou is not prone to poidium, but in case of a consequent threat, we use sulphur